A CRITICAL VIEW TO CHILD WELFARE SYSTEM IN NORA FINGSCHEIDT'S FILM "SYSTEM CRASHER"
Keywords:
System Crasher, German Child Welfare System, Child Abuse, Traumatised Children
Abstract
Today, in addition to its artistic meanings, cinema also conveys messages reflecting some problems in society. It is a well-known fact that dramatic and engaging visuals and narratives in films have a considerable effect on the audience; as a result, seeing some great movies that show the difficult lives of individuals including some societal problems can play a significant role to comprehend the society better. They help us criticise our lives, understand ourselves, and inquire about social coherence and relations. Nora Fingscheidt's film System Crasher (2019) can be considered as one of the movies of that kind. It is about a traumatised nine-year-old child whose caregivers are determined to give the troublesome Benni some foundation and prevent her uncontrollable violent outbreaks in the Child Welfare system. She is a "systemsprenger" or "system crasher," a phrase used in German social services to identify children who fail to find a home or care facility to live. Therefore, Fingscheidt's film focuses on a repetitive portrayal of Benni's transition from one treatment facility to the next: from residential care to psychotherapy, foster care, and anger management courses. It is a sequence of events that happens to be an endless circle. In this study, it is aimed to convey how Nora Fingscheidt's System Crasher reveals a critical perspective to the Child Welfare System in terms of reflections of sociology. In this context, the film is analyzed as a critique of the inadequate Child Welfare and Social Services system. As a result, more of these films with social themes should be produced in order to raise public awareness about the necessity for a better Child Welfare System to protect vulnerable children.
Downloads
Download data is not yet available.
References
Baughan, N. (2020). System Crasher: A traumatised nine-year-old girl falls through the cracks: British Film Institute. Retrieved August 12, 2022, from https://www2.bfi.org.uk/news-opinion/sight-sound-magazine/reviews-recommendations/system-crasher-nora-fingscheidt-nine-year-old-social-care-rage
Bowmer, A. (2020, August 26). System Crasher: Lightly denting the system (review). Loud And Clear Reviews. Retrieved August 13, 2022, from https://loudandclearreviews.com/system-crasher-review/
Bradshaw, P. (2020, March 25). System crasher review – gripping tale of a nine-year-old on the edge. The Guardian. Retrieved January 19, 2022, from https://www.theguardian.com/film/2020/mar/25/system-crasher-review-nora-fingscheidt-helena-zengel
Çayırcıoğlu, D. (2014, April 15). Sosyolojide Sinema Filmlerinin Eğitsel Araç Olarak Kullanilmasi. Retrieved August 16, 2022, from https://dspace.ankara.edu.tr/xmlui/bitstream/handle/20.500.12575/31603/tez.pdf?sequence=1
Fingscheidt, N. (2019). System crasher – Oyunbozan Altyazılı i̇zle | Kült Filmler. system crasher-oyunbozan. Retrieved January 19, 2022, from https://kultfilmler.com/system-crasher-oyunbozan-izle/
Howe, D. (2009). Review: Jude Cassidy and Philip R. Shaver (EDS) handbook of attachment: Theory, research and clinical applications. Journal of Social Work, 9(4), 443–444. https://doi.org/10.1177/1468017309342543
Jutton, L. (2020). System crasher: Broken Hearts & Broken Jaws. Film Inquiry. Retrieved January 19, 2022, from https://www.filminquiry.com/system-crasher-2019-review/
Lyons, R. K., & Jacobvitz, D. (1999). Apa PsycNet. Attachment disorganization: Unresolved loss, relational violence, and lapses in behavioral and attentional strategies. Retrieved January 19, 2022, from https://psycnet.apa.org/record/1999-02469-023
Weissberg, J. (2019). Film review: 'system crasher'. Retrieved August 16, 2022, from https://variety.com/2019/film/reviews/system-crasher-review-systemsprenger-1203132471/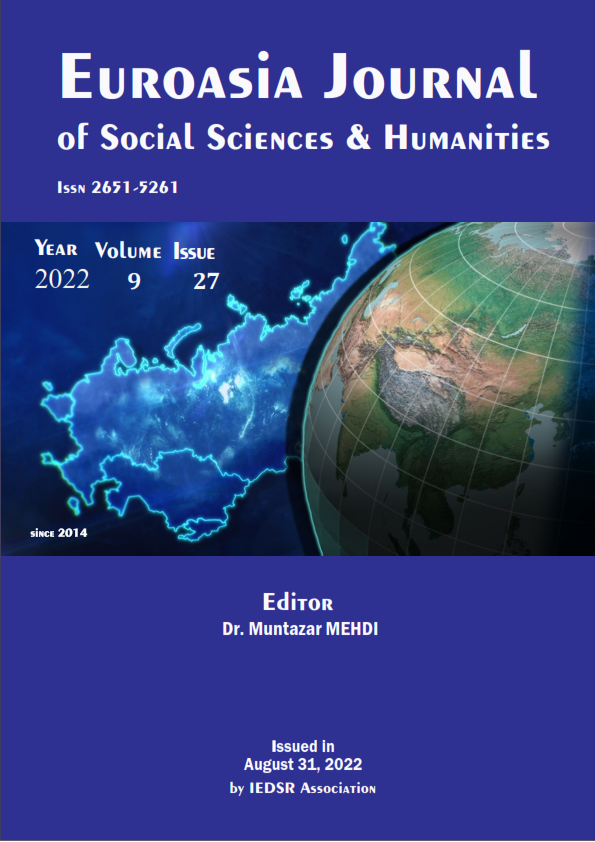 Downloads
How to Cite
YARKA, A. . (2022). A CRITICAL VIEW TO CHILD WELFARE SYSTEM IN NORA FINGSCHEIDT'S FILM "SYSTEM CRASHER". EUROASIA JOURNAL OF SOCIAL SCIENCES & HUMANITIES, 9(27), 1–6. https://doi.org/10.5281/zenodo.7038500
License
This work is licensed under a Creative Commons Attribution-NonCommercial 4.0 International License.