POSTMODERNIST ANALYSIS OF THE PILLOWMAN
Keywords:
The Pillowman, postmodernism, in-yer-face theatre, Martin McDonagh
Abstract
Postmodernism is among the most discussed subjects in contemporary world. Despite the criticism, postmodernism has been thriving in many different subject areas after modernism's failure in keeping its promise for a "better life". This paper mainly aims to examine and discuss devices and techniques used in the 2003 play The Pillowman by Martin McDonagh in the light of postmodernism. This study will examine postmodernist features and devices such as intertextuality, narratives/grand-narratives, black humor, metafiction, hyperreality, self-reflexivity, irony, paranoia, fragmentation, maximalism, allegory and late capitalism within the play, aiming to bring a better understanding to both postmodernism and The Pillowman.
Downloads
Download data is not yet available.
References
Barth J. (1984). The Friday Book: Essays and Other Non-Fiction. London: The John Hopkins University Press.
Baudrillard, J., & Glaser, S. F. (1994). Simulacra and simulation. Ann Arbor: University of Michigan Press.
Çakırtaş, Ö. (2018). The image of narrative prosthesis in McDonagh's The Pillowman: Normality vs. psychopathology. Litera, 28(1), 33-51. https://doi.org/10.26650/LITERA398079
Frais, H. (2008). El sistema global neoliberal. Revista Polis, 7(21), 229-263.
Heuvel, M.V. (2001). The Cambridge Companion to Tom Stoppard, ed. Katherine Kelly. Cambridge University Press, 2001
Hoesterey, I. (1995). The Centennial Review , Fall 1995, Vol. 39, No. 3 (Fall 1995), pp. 493-510
Hutcheon, Linda (1980). Narcissistic Narrative: The Metafictional Paradox. New York: Methuen
Jordan, E., & Chambers, L. (2006). The theatre of Martin McDonagh: A world of savage stories. Dublin: Carysford Press Book.
Lourdunathan, S., (2017). Postmodern Readings of Contemporary Society. (Personal Collection of the S. Lourdunathan), Jawaharlal Nehru University, New Delhi, India.
Lyotard, J-F. (1984) The Postmodern Condition: A Report on Knowledge. Manchester: Manchester University Press.
McDonagh, M. (2003). The Pillowman. London: Faber and Faber Press
Orr, M. (2010). Intertextuality. The Encyclopedia of Literary and Cultural Theory. doi:10.1002/9781444337839.wbelctv2i002
Rebein, R. (2010). Minimalist/Maximalist Fiction. The Encyclopedia of Twentieth-Century Fiction. doi:10.1002/9781444337822.wbetcfv2m016
Russell, R.R. (2007) A Casebook: Martin McDonagh, New York, Routledge Taylor & Francis Group
Sayın, G. (2009). Martin McDonagh Tiyatrosu, Ankara, Nobel Yayın Dağıtım
Sierz, A. (2000). In-Yer-Face Theatre: British Drama Today, London, UK, Faber and Faber Limited
Sierz, Aleks (2013). The Theatre of Martin Crimp (Second ed.). Bloomsbury Methuen Drama. pp. 48–49. ISBN 978-1472517012.
Şimşek, E. (2019). Modernite, Postmodernite ve Bauman. İstanbul: Belge Yayınları.
Thorson, G. (2009) The New Grotesque: The Theatre of Martin McDonagh and Tracy Letts, Saarbrücken, Germany, VDM Verlag Dr.Müller Aktiengeselschaft & Co. KG
Worthen, H., & Worthen, W. B. (2006). The Pillowman and the Ethics of Allegory. Modern Drama, 49(2), 155–173. doi:10.3138/md.49.2.155
http://www.inyerfacetheatre.com/archive2.html#e
https://luxurylondon.co.uk/house/interiors/maximalism-interior-design-trend.
https://web.archive.org/web/20061001031635/http://www.writernet.co.uk/php2/news.php?id=324&item=164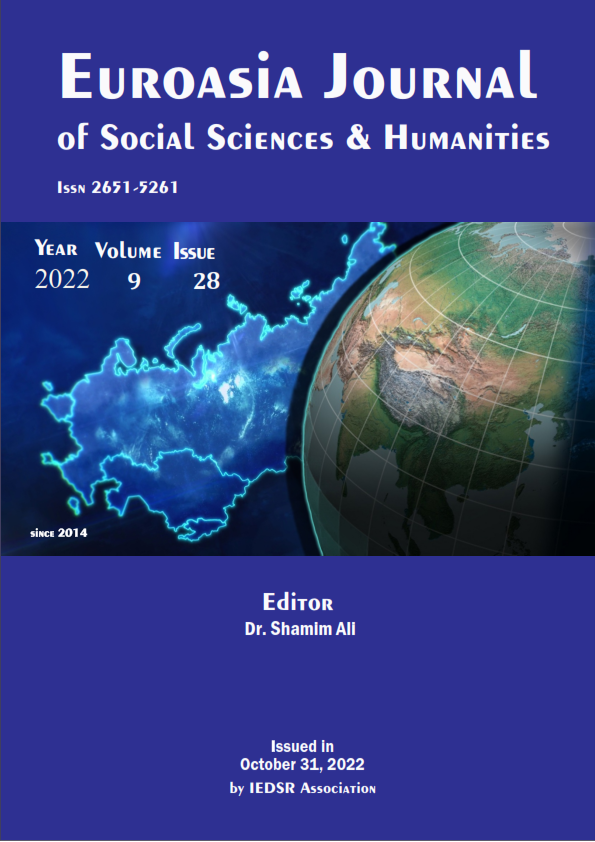 Downloads
How to Cite
DEVRIM, N. (2022). POSTMODERNIST ANALYSIS OF THE PILLOWMAN. EUROASIA JOURNAL OF SOCIAL SCIENCES & HUMANITIES, 9(28), 1–8. https://doi.org/10.5281/zenodo.7268669
License
Copyright (c) 2022 EUROASIA JOURNAL OF SOCIAL SCIENCES & HUMANITIES
This work is licensed under a Creative Commons Attribution-NonCommercial 4.0 International License.