CLIMATE TRANSFORMATION AND GREEN FINANCE
Keywords:
Green bonds, Ecological finance, Eco-investing
Abstract
Climate change is one of the first problems that threaten the lives of all living things on earth. All societies, whether developed or developing, leave high levels of carbon footprints on the planet. Societies have come into existence by producing. One of the main requirements for being a developed economy is production. However, many sectors such as logistics, construction, technology are dependent on energy use, in terms of human activities and all production stages. In addition, countries consume more energy while industrializing with their developing economies. This energy use causes high carbon emissions. If the energy used to carry out these economic activities is based on fossil fuels, even higher carbon emissions into the atmosphere are inevitable. As a result, the world has to face more environmental and climate risks. Climate sensitivity is required for caring to the living environment and to ensure sustainable economic development. For this, not only governments or individuals, but also all their sectors need to realize fundamental structural change. In order for this process to continue in a healthy way, it is necessary to make investments not only in the sector, but also in many fields. When it comes to providing the financial source of investments, the new generation climate finance comes into play. It is important to implement costly international projects to protect the climate and ecological system. It is necessary to fund the projects for the protection, development and sustainability of the ecological system, while presenting the financial instruments that mediate the provision of these funds to the investors. In addition, the demand for green securities continues to increase with the increasing sensitivity of investors to the environment and climate. With the increasing investor demands, the issuance of green financial instruments in the markets started to grow to a significant extent. Today, the market size of green bonds and other climate compatible securities continues to increase in both developed and emerging stock markets. In this study, while examining the characteristics of green and sustainable bonds in financial markets, low carbon emission economy and climate change finance are also evaluated.
Downloads
Download data is not yet available.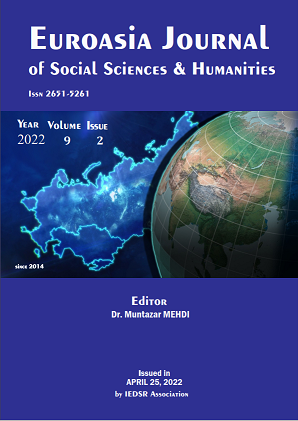 Downloads
How to Cite
KESKİN , M. (2022). CLIMATE TRANSFORMATION AND GREEN FINANCE. EUROASIA JOURNAL OF SOCIAL SCIENCES & HUMANITIES, 9(25), 54–69. https://doi.org/10.38064/eurssh.339
License
This work is licensed under a Creative Commons Attribution-NonCommercial 4.0 International License.